Loeffler Team Science Seed Funding Program
Continuing a decade-old tradition of interdisciplinary Ira J. Spiro MD seed grants in radiation oncology, the Loeffler Team Science Seed Funding Program (LTSFP) was launched in 2019 to foster team science and support early- and mid-career investigators in Radiation Oncology.
For details please click here (under construction).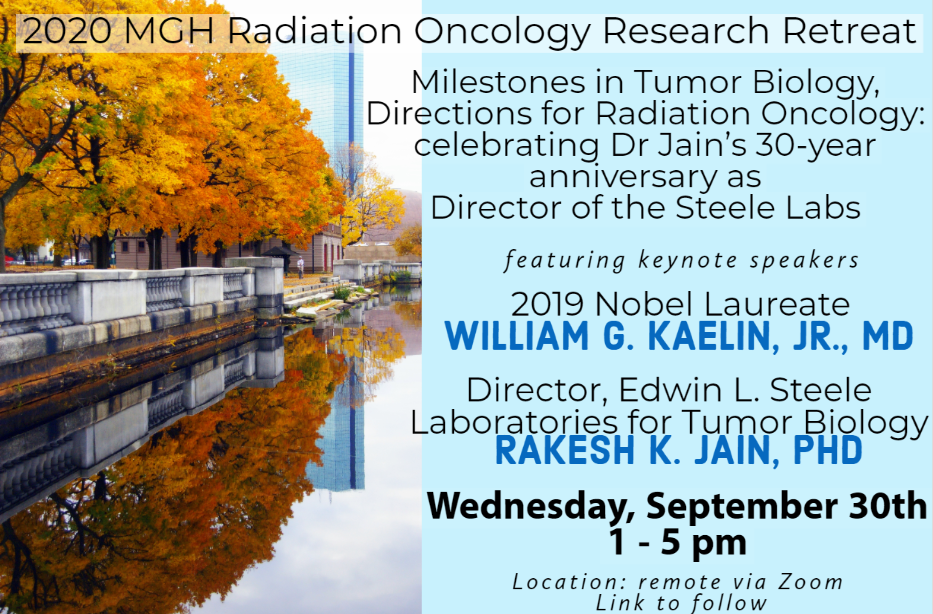 Departmental Research Retreats
Departmental Research Retreats were launched in 2007. Bringing together investigators from our clinical, biology, and physics divisions the Retreats have stimulated idea exchanges, interdisciplinary collaborations, and resource sharing. Each Retreat has centered on a timely topic with broad appeal to the diverse participants, ranging from Clinical Trials, Precision Radiation Medicine, Big Data/AI to Immuno-Oncology.
The 8th Retreat in 2020 was held in recognition of Dr. Rakesh Jain's 30th Anniversary as the Director of the Steele Laboratories and featured Nobel Laureate Dr. William Kaelin.
Intradepartmental Grant Peer Review Initiative
To leverage the expertise of NIH funded investigators in the Department of Radiation Oncology, many of whom conduct research in cancer and radiation biology, an initiative has been launched to provide internal peer reviews of federal grant proposals prior to formal submission.
We hope that this initiative will result in more competitive and ultimately more funded proposals. The review process is geared toward early-stage/new investigators. Details can be found here.